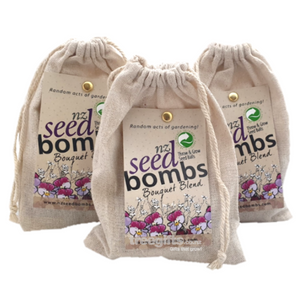 NZ Wildflower Seed Bombs
Toss a bouquet of Viola and Gypsophila down in the garden to multiple every year and brighten up the days.  No need to plant, simply toss about wherever you would like them to grow and let Mother Nature do her thing! 

As each seed bomb has a variety of seeds they can be thrown into the garden early spring through late autumn, for quick germination. However, technically they can be thrown all year round as seeds will stay dormant until the temperature is warm enough to germinate.

This product is currently  not available for individual sale at this time - available as an add on gift to an existing gift box or build your own gift box only.





Seed Bombs - Bouquet Blend:
Each muslin bag contains 6 seed bombs to throw and grow
Seed Blend :  Viola Edible Blend, Gypsophila Virgo


Seed mixes were produced in association with Steve Wratten, Professor Bio-Protection Research Centre at Lincoln University and Ruud Kleinpaste.

This product is only available for adding onto an existing gift box and is not available for individual purchase at this time.  Price is for one bag of 6 seed bombs.

Reviews
Seed Bombs
I have bought several bags of the seed bombs in various varieties, both for myself and as gifts. Everybody who has received them love them and have also bought them.
Seed bombs
I've just planted my seed bombs. I thought they looked really full of seeds though. Fingers crossed I get a lovely display. My orders from treegifts always arrive in a timely manner. So far so good.