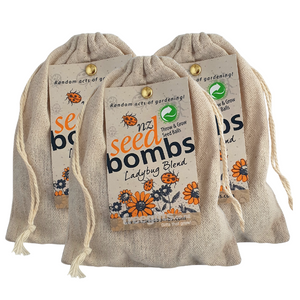 Get the Ladybug to fly away home  - to the Wildflowers down in the garden!  No green thumb needed  - just toss (or lob) these NZ Seed Bombs  into the garden and mother nature will break them down, all set to grow beautiful wildflowers.  Not only will you provide a habitat for pollinators but at the same time add some gorgeous colour to the garden - its a win/win all round! 


Price stated per unit is for one bag of 6 Seed Bombs 

This product is currently only available for adding to a gift box and is not available for individual sale at this time.



Seed Bombs Ladybug Blend:
Each muslin bag contains 6 seed bombs to throw and grow
Seed Blend:  Cosmos, Marigold & Calendula
Seed mixes were produced in association with Steve Wratten, Professor Bio-Protection Research Centre at Lincoln University and Ruud Kleinpaste.


This product is only available for adding onto an existing gift box and is not available for individual purchase at this time.  Price is for one bag of 6 seed bombs.


Reviews
Amazing product and fast delivery
Amazing product, I cannot wait to give as a Christmas gift, it was packaged beautifully.
I almost want to keep them for myself, delivery was really fast, and excellent customer service. Will defiantly be ordering from Tree gifts again.
Lady bug seed bomb
Awesome can't wait till they grow
Great Idea!
Thanks for the great service and disptch of the seed bombs for Mother's Day. I thought they were such a great gift idea, something totally out of the ordinary that Mum wasn't expecting. She was most impressed with my gift giving this year! Thanks!