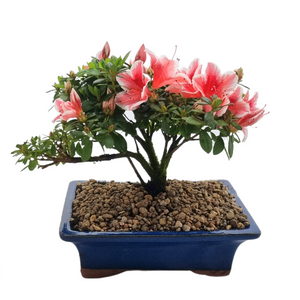 Azalea Bonsai Gift

Forget the cut flowers and send a gift that will bloom (with the right care) for years! 
Azalea have long been the go-to plant for Bonsai design. Deciduous Azaleas bring a fragrant scent with summer-long blooms. Many deciduous hybrids begin flowering long before summer begins and carry their beauty into the autumn with brightly coloured foliage. 

The Bonsai pictured is the one you are purchasing 2yo, please note flowers do drop and new ones appear as we head towards the middle of spring, the picture of your Bonsai.  Currently has small flowers (at the end of its cycle), Outdoor Bonsai - 22cm -25cm above the pot itself.
 
Each Bonsai NZ tree comes with full care instructions and your personalised gift message entered during the checkout process.  Order before 2:30pm for same day dispatch from our offices.  Bonsai ordered on a Friday will be held over until Monday to ensure they do not sit in the courier depot over the weekend unattended.