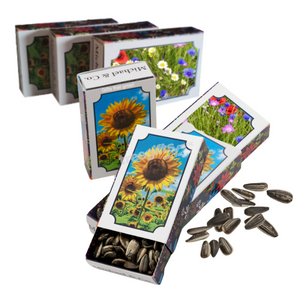 With a real nostalgic feel Seed Match Boxes are a great size for a handout gift. 

Fully brandable with your own artwork inside and out, no internal packaging means the seeds sit directly inside the slide out matchbox which is fully recyclable.

Template supplied for your designer; you are only limited by your imagination.  
Please scroll down for more information

Minimum Order 250 units <250 not available.
Dimensions –  6cms x 3.7cms x 1.5cms

Delivered in bulk - we do not ship this product individually.

Lead In Time:
14-21 days quantity dependent.


Seed Varieties Available in this product:  
Note - this product is not available with native seed only the seeds listed.
​Vegetable Seeds – Bean, Pumpkin, Pea, Sweet Corn.
​Flower Seeds – Sunflower, Wild Flower Mix.
​Herb Seeds  – Coriander.

Please note lead in times can change due to the time of the year such as Christmas - seeds have a shelf life of 12 months, please place your order early for these times.