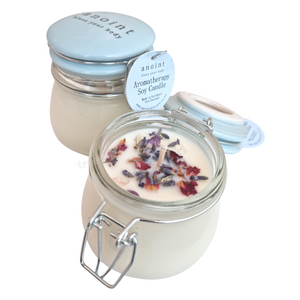 New to our range and extremely popular - Anoint Aromatherapy NZ Soy Candles are beautifully comforting & alluringly peaceful. A combined luxury blend of Essential Oils of Rose Geranium, Lavender, Ylang Ylang & Bergamot imparting tranquil and calming aromatherapy properties.

Embellished with Rose Petals, Lavender rubbings, Amethyst & Pink Quartz Crystals you can tell from first glance this is a quality candle.  Made from soy wax with a burn time of 25+ hours.

Sustainably presented in a reusable glass sealable jar, free of plastic with cotton wick.
This product is not available for individual purchase. Only available to be added to a gift box / tin as an "add on" product.