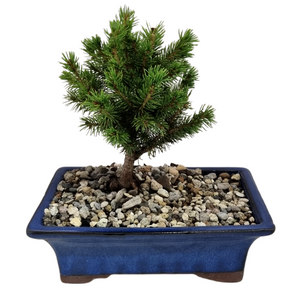 This cultivar of the white spruce (Pica glauca) is a dense, compact, cone-shaped, evergreen dwarf conifer with soft bright green foliage - Picea holds its cone shape and is perfect for beginners to Bonsai
In Greek mythology, Spruce were dedicated Artemis, (Goddess of the Moon, Hunting, Nature). The Greeks suggested that the enduring Spruce tree represented constant, eternal life and was labelled 'The Tree of Birth'; its scented evergreen needles signifying resilience and strength.

The Bonsai  you are purchasing is approximately 2.5yo old as shown in the photograph. Being a living tree must be kept outdoors.




Comes in high glaze blue bonsai pot pot 20x15cm x 25(h).  

Each Bonsai NZ tree comes with full care instructions and your personalised gift message entered during the checkout process.  Bonsai are outdoor plant gifts.


Order before 2:30pm for same day dispatch from our offices or select the date for delivery at checkout. For standard delivery time frames around NZ please see our Delivery Information page.