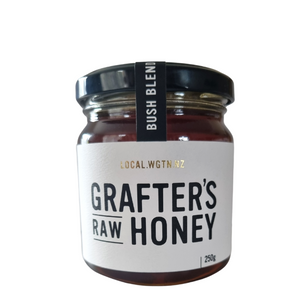 Produced in the wild and remote windy hills of Wellington where the bees and mother nature are fully in charge!  This delicious, beautiful amber Native Bush Honey has beautiful floral notes of Pohutukawa, Kamahi, Rewarewa and Kanuka.

Recent feedback from a honey connoisseur recipient "...writing to let you know that this honey is top notch!" - we absolutely agree!

Bush Blend 250g 
Made by: Grafters Honey Wellington NZ
Honey is naturally Gluten Free
This product is not available for individual purchase. Only available to be added to a gift box / tin as an "add on" product.