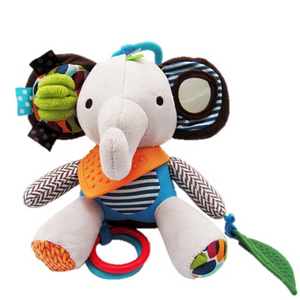 We call him "Peanut" but of course  he's open to adoption name changes!
Full of activities for baby - from squeaks to mirrors, rattles to teething chew - a wonderful first friend for the newest addition to the family.
This product is not available for individual purchase. Only available to be added to a gift box / tin as an "add on" product.
Reviews
Celebrating family
I really enjoy buying gifts from the Tree Gifts website as there is such a variety to choose from to suit any occasion. On this occasion it was to celebrate the birth of my greatgrandchild. I chose seed bombs for my granddaughter and her husband as they are in the process of landscaping, and I knew the flowers would grow along with their newborn. I also included the interactive elephant toy for my new great - grandson as it looked like it would bring him a lot of joy. Thanks Tree Gifts :)