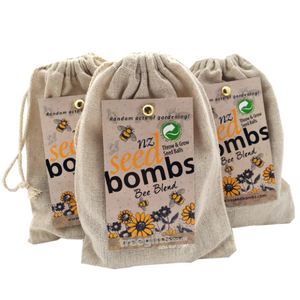 Throw and Grow Gardening Gifts
No green thumb needed! Designed to be "thrown" not planted, hence where the name "bomb" comes from.   Help NZ's struggling bee population by tossing some love into the garden to grow pretty Wild Flowers. Just toss them around at random and mother nature will break them down in the rain, ready to do their magic!

This product is currently only available for adding to a gift box and is not available for individual sale at this time.
 

Seed Bombs - Bee Blend:
Each muslin bag contains 6 seed bombs to throw and grow
Seed Blend : Cornflower, Echium, Phacelia, Poppy, Red Clover, Rudbeckia, Salvia and Thyme.  Best thrown in Spring.

Seed mixes were produced in association with Steve Wratten, Professor Bio-Protection Research Centre at Lincoln University and Ruud Kleinpaste.



This product is only available for adding onto an existing gift box and is not available for individual purchase at this time.  Price is for one bag of 6 seed bombs.

Reviews
Thank you very much. Love the products
Awesome gift ideas
I purchase these as gifts and I plan on purchasing more so easy !
Great service and packaging, I will certainly recommend your products to others, thank you
Speedy, efficient service. Have used in the past and will definitely do so again.