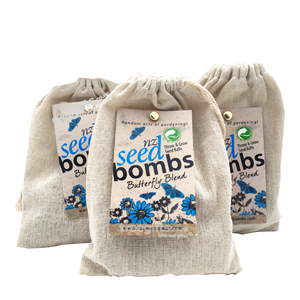 Just throw and Grow! No green thumb needed. 

Seed bombs are fun for adults and kids alike! Just lob them into the garden and let mother nature break them down then watch the magic begin as ildflowers grow helping our struggling bee population and encouraging more butterflies.

Having such a variety of seeds in each bomb means they can be thrown into the garden early spring through late autumn, for quick germination. However, technically they can be thrown all year round as seeds will stay dormant until the temperature is warm enough to germinate.

This product is currently only available for adding to a gift box and is not available for individual sale at this time.




Seed Bombs - Butterfly Blend:
Each muslin bag contains 6 seed bombs to throw and grow
Seed Blend : Echium, Cornflower, Phacelia, Poppy, Red Clover, Thyme, Salvia and Swan Plants


Seed mixes were produced in association with Steve Wratten, Professor Bio-Protection Research Centre at Lincoln University and Ruud Kleinpaste.


This product is only available for adding onto an existing gift box and is not available for individual purchase at this time.  Price is for one bag of 6 seed bombs.
Reviews
Hard to buy for male!
Great idea and useful product to add with sweet treats. The recipient was very pleased. Hand delivery was awesome. Thank you.
Seedbombs
I've planted my seed bombs about 2wks ago. They are just starting to pop up now. So far so good. I'm looking forward to seeing the results in a few more weeks. Cheers.
Great gifts
Was happy with the response of those that I gave the Seed bombs to.
Am excited to see the results
Seed Bombs
These little pouches are a great idea for little gifts, especially for children. Each batch of seeds are clumped into a little bomb and is so easy to plant. I can't wait to see what comes up.
Mix seeds
Very happy with the service and product would definitely order from Tree Gifts again