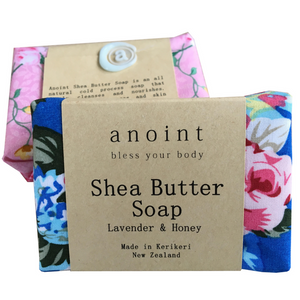 Anoint Skincare's Shea Butter Soap is an all natural cold process soap that gently nourishes and cleanses.
The ingredients are a simple but luxurious combination of Shea Butter, Coconut Oil, Olive Oil, Mānuka Honey and all natural Essential Oil of Lavender.  It is gentle and natural enough to be used as a face wash, body cleanser or a shampoo bar.

These (gorgeous smelling!)125gram bars are wrapped in assorted fabrics with a cardboard sleeve and finished with an Anoint wax seal.

Made in Kerikeri NZ.
Whilst this product is not available for individual purchase it makes a lovely addition to one of our care packages.