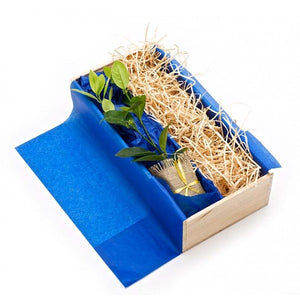 Tree Gifts NZ provide a tailor-made gift service for our corporate clients utilising this product.  

In addition to our Single Tree Gift boxes, we offer a double box with a tree gift on one side and a blank compartment on the other side.  This option is used if you would like to custom design a box with us from our range or have us source something for you. 

You are also welcomed to have products such as alcohol delivered to our offices for insertion in the spare side prior to dispatch. We do not supply alcohol ourselves.  The second side fits a standard bottle of wine or spirits (not magnum)

THIS PRODUCT CLOSED FOR 2023




FAQ: Can we get the gifts delivered to our offices with just the tree, then we pack & send using our courier?

Sorry, as trees are time bound (being living in nature), double handling would not be a good idea.  However, you are welcome to deliver us your own products, we'll pack them at no extra cost (you can even include personally signed cards) and we will deliver direct to your clients, so you don't have to lift a finger!   OR of course with over 100 products on our website we can custom design a box together (or source products for you)

Over 18 years we have helped clients design gifts with a range of products from top body care and make up suppliers to NZ wineries, adding culinary artisan products along with the insertion of Gin, Wine and Brandy all delivered direct to their clients.
Contact us today to discuss ideas to suit your budget email or phone 0800 87 3344.




Reviews
Best Corporate Gifts Ever!
For the past three years I have chosen Tree Gifts to provide my clients with end of year thank you gifts. The feedback I receive from my clients is incredibly positive and needless to say, they love the living trees they receive in their gift boxes. I also ask Tree Gifts to include within each gift box a branded item along with a card I have supplied. They are more than accommodating and nothing is any problem for them. It is wonderful being able to send them the details of the gift recipients and then they take care of everything! Without hesitation I recommend choosing Tree Gifts for your corporate gifts.